Games to play with cards have been around since 900AD and invented during the Tang Dynasty and played with plentiful jugs of cheeky drinks. Today, playing cards with family and friends is one of the most traditional pastimes, yet easy card games for kids can offer them huge learning benefits through fun and hidden education and learning opportunities.
Even easy card games are great learning tools and help with essential motor, social and development skills. Many games will benefit your child's memory function and thinking and planning strategies. As we all know, kids can get easily bored, especially when the skies are dark and foreboding, so why not have some family fun and dust down the cards and teach your kids how to play cards.
There are many alternatives on the market that are suitable for toddlers to teens, for two players or more and are guaranteed to get everyone laughing, having fun and a little competitive.
Why card games for kids?
Is it possible to avoid screen time for kids these days? It's practically impossible to do that because of many reasons like online learning or busy parents. Both adults and kids are spending most of their time with desktops, ipad, and TV, especially during a pandemic or unfortunate school closures.
So we can't expect kids to limit their screen time unless they are captivated with attention-grabbing and stimulating activities. The best part with younger kids is parents can balance their screen time with other off-screen activities.
When it comes to me, I spend a lot of time with my five-year-old daughter with many different off-screen activities. In fact, kids learn a lot with these off-screen activities.
Easy card games would be the best approach among them to control screen time for kids, at the same time to create a fun family environment at home.
 Adding to this, parents can let kids make better choices about the screen time that they indulge in learning.
Are card games good for kids?
You can't beat a little family competition – mum and dad versus the kids, mother and daughter versus father and son. Whether the kids play on their own or form teams, easy card games allow for confidence building, the feeling of success and independence.  There is one set of rules that everyone follows, therefore, anyone can win with a bit of luck and concentration.
Children (and parents) can also learn how to play card games, win with refinement and lose with style. The digital age has seen a reduction in family card games, but they are vital because they promote interaction, bonding moments, silliness and fun; these are the things that memories are made of.
Do family card games teach you life lessons?
Of course! Playing cards is sociable and a great way to get family members chatting about their day and if they have had any successes or problems. Certain games such as Bridge teach players to be 'poker-faced' and not to give anything away; the same can be said in high-level business negotiations.
Learning how to play cards teaches the benefits of being competitive and that you can't win everything in cards, and the same applies to life. You win some, and you lose some, but with careful forward planning and strategising, you become naturally more competitive.
How to choose Card Games for Kids?
Learning through play is the most popular method applied in schools, that make kids be part of learning practically. Montessori methods are the best example that replicates this funda. Even parents are delighted with these concepts.
You can make a better choice in picking up kid's stuff, which makes them entertain and educate at the same time. Kids cards games fall into the same pool that would create a lot of fun, a technology-free zone within the family.
These days teaching and learning both are made easy with heaps of educational products available in the market. Kids card games are comprised of various strategical methods to teach different subjects to them. In contrast, kids are fascinated to play these simple card games.
In this article, I came up with different types of simple card games for kids, hope it helps you.
As we know, math is frustrating for most of the kids. Its time for parents to help kids get fascinated with it.
Playing everyday with math card games would be the best approach to improve children's math skills.
Game type: One of the cool math card games for kids 
Age: Best suited games for 7 years old and up. 
This math card game is the most suitable approach for kids to teach concepts like patterning and reasoning, the 36 design colorful pattern blocks cards will incline them to learn patterns
Playing this easy card game will also encourage geometric exploration in them.
Geography is an enormously interesting subject for many. Still, some kids feel it as quite boring, so there are multiple ways to make geography enjoyable for kids.
Have an excellent vacation time with kids moving out to scenic places or trucking on the mountains, enjoy the feel-good view at seashores that make kids connect with nature. At the same time, they will come to know the different locations and countries, nothing but a practical approach to learning geography.
If you are unable to travel, no worry, you can also teach geography with this easy card games which are more fun and kids can pretend to travel all the places with cards. However, I like to travel and enjoy outdoor!
Game type: This is one of the best geography games for kids.
Age: Best suited games for 7 years old and up kids
Players: This is a card game for three players and more
Isn't it fun to travel the world just being at home with cards? It sounds fun right!! Its good option during this pandemic as we cannot really travel around.
This geography game will get you a similar experience, travel the world being in the home. This game would be a geography quiz for kids recognizing all 194 countries with flags. They can spot the exact location of the country in the world map, including challenge zones.
DIY Geography games for kids (With Video)
I made this simple card game for my 5-year-old daughter to incline her interest to learn geography in a more fun way to spot a few HOT and COLD countries. Just give it a try for your kids and have some fun time.  
How to make this card game on your own?
Materials required:
I used craft paper and markers here
We have provided a Free printable Flags activity set needed for this game here to save your time.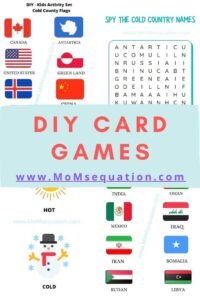 Click here to download Free printable for game.
Step 1:
Either you can use the free printable flags to color, or you can make your cards of a few hot and cold countries 
Step 2:
As shown in the video help kids to spy the words of countries from the spy words sheet ( you can download free printable) 
Now match the country with the appropriate hint given on the back of the card HOT or COLD(to make it easy for kids to place a symbol of hot or cold on the cards)
Repeat the same with other country flags, and match it to the desired symbol.
I hope this DIY kids cards games help you to avoid screen for a while.  
Fun card games to play with kids, Family, and friends
These are not just for kids, but its fun for the whole family to refresh and makes an extraordinary evening time to spend.
I believe that playing with these off-screen simple card games is a productive way to spend time with children.
It also allows parents to understand their children's behavior and mental strength when they are winning or losing the game.
So here is the list of some best card games for kids that make them busy.
We have been busily playing the following games and have the following list of card games, including two-player card games for you to try at home.
Hasty Baker Card Game - Fun Family Game for Kids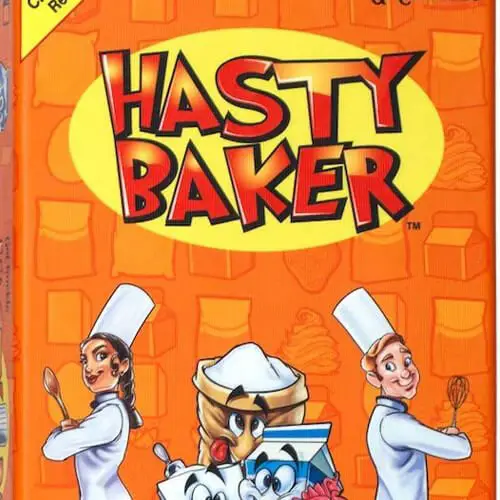 Game type: This is one of the best fun card games to play with family, friends, and kids  
Age: Best suited games for 6 years old and up.  
Players: This is a card game for three players and more
If you love to recreate fun with baking at home but not with the real ingredients, it sounds fun right?
Playing hasty baker is an outstanding choice for cheerful family time on a Christmas vacation or holidays.
Players will make 24 delicious recipes with 110 vibrant ingredient cards. To make it more joyful many fun characters create visual interest in the name of ingredients.
The icons on the recipe cards help the players for easy recognition avoiding language barriers.
Action cards make a friendly tiff among the family by stealing the ingredients from other players.
Finally, the hunt for the ingredients to make recipes turned out as the best family card games.
Age- 4 upwards
Players 2 – 6
Fun and colourful 'fishing' cards teach children how to read letters and simple words. Collect matching pairs of letters. The winner at the end of the game will have the least amount of cards. These beautiful cards can be used to help children spell too.
Game type: One of the fun family card games focussed on visual perceptions.
Age: Almost all age kids and adults can play this simple card game. 
Set card game is captivating for kids to learn numbers, colors, shades, symbols.
Players will make SETS by matching three unique cards, either with the same features or different features on each card.
Like a sequence game, played with a standard deck of 52 cards.
Once you switch to this game, it would be highly addictive for kids to test their skills. 
Game type: Bicycle card games is a pack that includes fun and easy card games for kids
Age: Kids of 3 years old and up
Preschooling starts with activities which almost covered in this bicycle card games. Packed with six different learning ideas that include color recognition, counting, and more. Kids enjoy learning and play with this game.
Age: 4 and above 
Players: 2 – 4
A fast 'matching' game that involves pattern recognition and smart strategics. Players take turns to swap cards and make matches. But beware if you are stuck with the Old Maid at the end of the game you lose.
A perfectly simple card game for kids which allows them to match items and helps them to learn how to count.
The first player to use all of the cards in their personal stockpile is the winner. Skip-Bo is a strategic sequencing card game where players create 'stacks' of cards in ascending order. Wild cards give additional excitement, and that can help you beat your opponents; a competitive and fast game that requires the full attention of each player.
Road Trip Scavenger Hunt Search Game
Game type: Best travel card game
Age: kids of ages 3 years and up
Players: This is a card game for three players and more
Road trip scavenger hunt is fittest fun card travel games to play with Kids, Family, and friends. Select a suitable standard deck
of cards that match your trip then start spying the objects from your car window to match the cards, the game gets exciting when you go to the challenge zone.
Kids get addicted to these travel games, not let you stop the car!!
This simple card game can be played as individuals or as part of a team. The first person or team to get rid of all of their cards is the winner. Challenging wild cards can change the game in an instant. Matching numbers is the name of the game, but you can earn bonus points for matching colors AND numbers. When you have two cards left in your hand, shout "DOS!" and if victory is won, you earn points from the cards that remain in your opponent's hands!
The multi-award-winning kid's card game is the  'younger' take on Cards Against Humanity revolves around child-appropriate jokes, hidden adult innuendos and lots of potty humor. Each player has 10 cards from which they answer a question card. The 'questioner' chooses the funniest answer, and the person who placed the answer wins that hand. The player who has the highest number of funny answers wins the game.
Game type: This is a perfect family card games to play with Age: Kids of 8 years old and up.
Players: This is a card game for three players and more
Monster misfits is one of the easy card games for kids and families, and this is a new take of crazy 8s with outrageous twists.
Monsters battle for supremacy with 77 cards guided with one fancy rule book. 
The player who first gets rid of all the cards will win the game.
Games can be played with standard deck of 52 cards
Crazy Eights

Players 2 – 5 
Card values
8 = 50, Jack, Queen and King = 10, Ace = 1 and all other cards = face value.
Instructions to Play:
Deal five cards, face-down to each player and leave the remaining cards in the 'stock' pile in the centre of the table. The dealer turns over the top card and sets in down onto the 'discard' pile. If an eight is turned over, then it's buried in the centre of the pack.
Starting with the player to the left of the dealer, they must throw away a card that either bears the same number or suit as the top card on the discard pile. If the player is unable to discard, they must draw another card from the 'stock' pile until they can play.
The first person to get rid of all of their cards is the winner of that round. Remember that a 'eight' is a wild card and can be played at any time. The winner adds up the value of each players hand and receives payment in jelly beans or something similar.
Players: 2 
Instructions to Play:
Deal the entire pack to the players face down. Each player will have 26 cards. At the same time, each player turns over the top card and places it on the table. The higher of the numbers wins both cards. IF both cards are the same, then there is a 'war'. Each player deals three cards face-down, followed by one that is face-up, the player with the highest of these cards takes all of the 10 cards. The game continues until one player has all of the cards and is announced the winner.
Players:  1 and more
Instructions to Play:
Scatter all of the cards in the pack, face-down on the floor or a table. Play starts with the first player turning over two cards in the hope of finding a match. If a match is found, then the cards are removed, and the player keeps both cards. If the cards do not match, then players will try to memorize the card's number and position. This continues until the cards are all matched. The player with the most pairs of cards is the winner.