Kids love playing outdoor and enjoy the sunshine and meeting friends. But, It may not be possible always due to unfortunate lousy weather or growing pandemic.
Kids are stuck at home, but mommy is busy with work. The most challenging question is how to keep kids busy all day at home, and how to reduce the screen time for kids?
Don't worry, here are our 40 fun activities for kids to do at home. These activities helps to reduce the screen time for your kids, and also works as a brain exercise for your kids.
No matter where ever you are and what the situation outside these fun activities for kids might help you to fight the boredom and spend the time wisely with your kids.
These fun activities for kids include some indoor games ideas and educational activities for your kids (kindergarteners and toddlers), kids crafts, legos building more and more. Pick your favorite event based on your kids interests.
Below is the list of 40 Fun Activities for kids to do at home during school closure with few pictures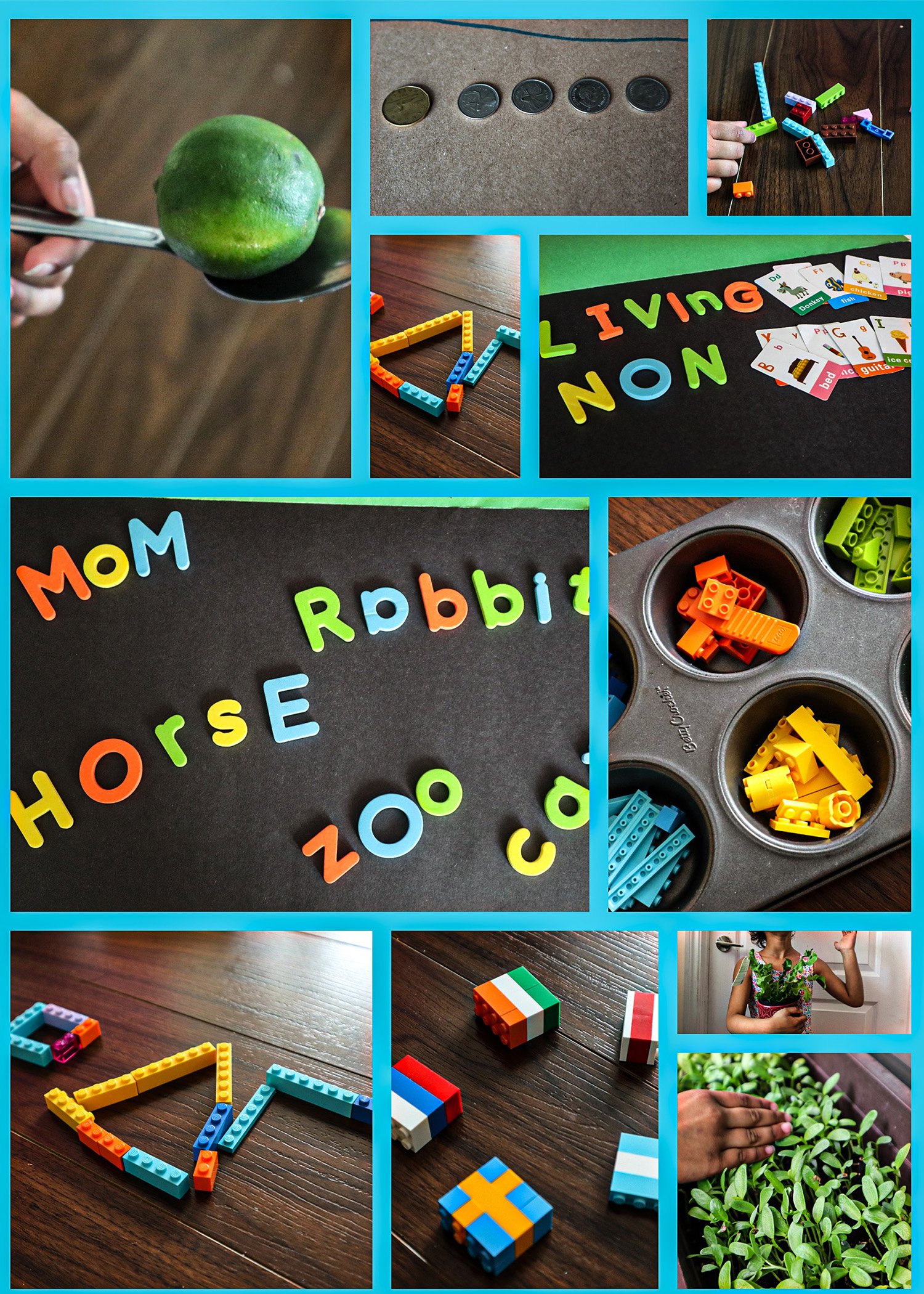 Help your kids to make different shapes with LEGOs like square, rectangle, triangle based on your child's age.
Sort the colors of Lego blocks.
Turn LEGOs into country flags
If your kids are toddlers help them identify the colors, alphabets
Read some picture books like mommy and me
Make different words using alphabets or alphabet magnets.
Match some sight word cards with appropriate words
For preschoolers, give an introduction to write something on a piece of paper, easel.
Doing different easy worksheets like connecting the dots to make shapes.
Play a game like identify different coins and help them to sort it into categories.like 5cents 10 cents.25 cents ,dollar etc.
Fun math game with coins- For kids five years and older help them to understand basic math like addition with coins like a four 25 scents counts a dollar.
Spend some family time with your kids by playing hide and seek at home.
Engage your kids in baking fav recipe like muffins, cookies
Use colorful sight-word cards, help your kids to identify living and nonliving things with those cards.
Play a game with your kids to find some living things and nonliving things at home.
Introduce the basics like length, mass, etc
Measure the toy length using some toothpicks,q tips, etc. for example, my toy piano is 30 toothpicks long, my toy car is five toothpicks long. Which helps them to identify the measuring units.
Make kids to do indoor gardening like ask them to put seeds into the soil pot and to water the plants by doing these activities kids learn about the basic requirements for the plant to grow
Sprout some beans, lentils, seeds with your kids, and identify the period for different seeds to grow.
If your kids are interested in crafts, give some easy craft ideas like making a sun—plant, leaf, etc.
If your kids are old enough, help them to do the life cycle of different animals with colorful crafts.
Make them to do different seasons like spring, summer, autumn, winter using crafts.
For preschoolers make fun crafts like a Halloween pumpkin, earth, etc.
Help your kids to do greeting cards for the near special occasions like Mother day, fathers day, birthdays, etc.
Make Homemade Play dough of different colors and cut the desired shapes.
Family tree fun using small photographs of your family; this helps your kids to remind their beloved ones like grandma, cousins.
Shape hunt at your home, which is a fun thing to do with your kids. Like play a game and ask them to find different shapes around them. For example, hunt a rectangle shape around you a carpet might be the answer.
Play some spy toy hunt with your kids at home like hide their favorite tiny stuff and let them find it.
Play some puzzle games like word puzzles -help them to identify some words like apple, tomato from a group of words
Make them to create music with different things at home.
Make a beads garland thread according to the color sequence.
Engage your kids to do small household things that you feel comfortable for them.
If your kids are old enough make a solar system with either paper or with thermocol
Read some stories with your kid.
Play a penguin waddle.
Blow the balloons of different colors. Or a backhand balloon balancing game.
BUBBLES-blow it and pop it create some fun.
A potato sack race kids enjoy this game with their friends or siblings can have a fun time by racing with reasonable distance at your home if you don't have a potato sack bag try with a pillowcase.
If your kids are tired up playing games, encourage them to write a journal.
Lemon and spoon race – This fantastic game is not only fun but also keep your kid-focused. Grab a lemon on to the spoon, hold it with hand and run, oops! if lemon drops you out of the game… Try again!
I hope these activities might help you to keep your kids happy and busy, which I do with my kindergartener at home.
At the end of the day, I encourage my kid and give starts for her performance, which motivates the kids.