Find the download option for compound words worksheets at the bottom of this article.
Before your kids get started with the compound words,
It is important to introduce what a compound word for kids is? So let's get into it.
Give your kindergartener a simple definition of a compound word that they can easily understand.
What are compound words?
Compound words are formed when two or more words are joined together to create a new term that has an entirely new meaning.
For example, "door" and "bell" are two different words, but they form another word, doorbell, when fused together. These words are included by either adding a hyphen or just using the two words as a single term. The spelling of the two words is not necessarily changed when they are joined together, but the definition becomes unique.
Here are some more printables to improve language skills
long Vowel A Words Activity-Fun workbook for kindergarten:which helps your kids to read write and colour, to learn the concept on long vowel A words
here are some fun activities for kids lets connect!!
There are different types of compound words. 
Closed Compound:-

 two words mesh together. 

For example

, rainbow, snowman, etc.

Hyphenated Compound:-

 In this kind of word, the hyphen is used between two or more than two words, often to prevent ambiguity. 

For example

, father-in-law, check-in, long-term, etc.

Opened Compound:-

 In this Compound category, words are commonly used together but are written with space in between. 

For example:

high school, roller coaster, peanut butter, etc. 
 Kids can easily understand the compound words with the compound words worksheets in which I have mentioned each compound word by splitting them, and pictures help kids understand better.
look at the preview of the images below
Download compound words worksheets for kindergarten learn &trace printable for free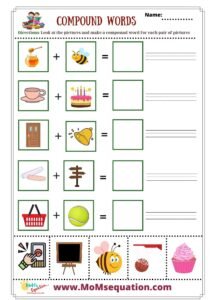 Children can learn and trace each word, by which they can improve their vocabulary skills too.
So get started by downloading the Compound words worksheets for free with just a click.
Within no time, your kids can dive in and can learn this new topic quickly.
I hope your kids will love compound words worksheets and are happy to work on them.
hang on!!here are some interesting worksheets for kids