STEM PROGRAMMING -The Best Early Education for Kids.
If you talk to any parent about their kid's education, you often hear the word 'STEM.'
When you explore a learning toy for your kids, you often see that most toys are labeled STEM.
STEM education is trending everywhere, which includes schools, online resources, even subscription boxes.
Did you ever get this doubt? What is STEM?
I am sure you might know the word STEM or read its abbreviation.
And I hope this article might help you clarify all the STEM questions and different ideas to get started with it.
Don't miss out to get fascinating free printable STEM activity worksheets for kids focused on alphabet S
I have also rounded up a few best books and toys to introduce STEM to your kids.
Let's deep dive, and learn more about STEM Programming and how it works !!
You can download STEM activity worksheets, the download option is below.
I am sure you may know the abbreviation of STEM. It's
S – Science

T – Technology

E – Engineering

M – Mathematics
STEM is an educational curriculum mainly focused on these four subjects.
If we see the traditional education style, every subject is taught independently.
But with the STEM approach, kids learn Science, Technology, Engineering, and Math collectively, designed to prepare them for real work.
It's more of practical teaching with real-life problem solving and innovation to create new things.
Significance of STEM education
STEM is a teaching methodology where kids learn regular subjects in project-based lessons, closer to solving real problems outside the classroom.
Mostly the traditional teaching style is restricted to theoretical training and subjects taught in solely.
If you observe, real problems cannot be solved with one subject or just theoretical learning.
For example, Software Programmers applies the concepts in Math, technology, design, and engineering to develop a product.
It's hard to build a new product like a mobile app or a game without understanding the STEM program.
STEM helps to improve
Problem Solving

Computational skills

Organizing things

Team-building or working as a team

Learning from failures
Alexa, would you please tell me a story? Alexa, turn on the tv please,
hey, Siri, what's the time now?
In today's digital age, you have readymade answers for any questions. Even my 3 years old kids ask Siri or Alexa for stories or any questions.
But, its important that kids learn to ask the right questions. Where I am coming is, kids need to be taught how to learn and apply them to solve real problems.
STEM education is meant to solve this. It focusses heavily to train kids based on real-life projects but on a small scale. In a way, STEM methodology helps kids to validate what they learn and consume.
The best age for STEM Programming
I commonly hear this question, when do they have to start STEM education for their kids.
In my opinion, kids can learn as young as their early childhood.
In fact, introducing STEM-based learning from an early age has excellent advantages.
Since STEM education is more practical, Kids learn through play, for example, science experiments.
It improves curiosity, which strengthens brain development.
It teaches children to take failures.
STEM improves out of box thinking and problem-solving. It is much need skill in today's technological evolution and connected world.
How to Introduce STEM for Beginners
STEM Activity worksheets for Kindergarten
Introducing the concept of lifecycles for kindergarteners would be ideal for starting with the S alphabet in STEM.
so here are STEM activity worksheets for kids to get started with
Chick lifecycle – Download the free printable worksheets
Frog lifecycle – Download the free printable worksheets
Essentials for Plant Growth – Download the free printable worksheets
There are various types of STEM ideas for children, and all of these ideas can support them to develop essential skills that will be required later on in their lives. These STEM ideas can benefit the kids by increasing their interests in different areas and fields for educational purposes. Some of the Simple STEM projects for kids are as follows:
Cloud in Jar (Category: Science):

 This simple science experiment is one of the best STEM activities for kids All we need to do is put together the basic things like a jar, water, and hairspray. 

 This is an easy exercise that helps the kids understand the water cycle, state of matter, and condensation.

Sticky Note Number Math (Category: Math): 

This STEM activity for kids requires a piece of paper pasted on the wall and a marker, and sticky notes. This activity helps the kids go for the sticky note number and paste them on the wall, matching them rather than memorizing them.

Coding a Lego Maze (Category: Technology): 

This is also the best STEM activity for kids focused on improving their coding skills in today's digital world.

. This activity helps the kids learn how to predict the

outcome of something by using sequence, looping, and command codes.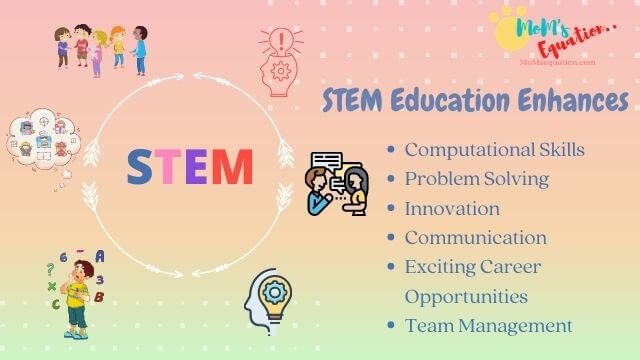 Over the past few years, Coding for kids has gained a lot of attention from parents worldwide owing to its amazing benefits.
If kids start to code, they are in pace of STEM because coding access children to learn all the ALPHABETS IN STEM (science, technology, Engineering, Mathematics)
Here are some advantages of Coding 
It Improves:
Problem-solving abilities 
Computer science skills
Communication skills
Gives an Amazing STEM experience
Effective Team building
Innovative skills 
Turns to creative minds
And a wide range of career opportunities 
Different online resources For Coding
There are a bunch of coding apps and websites that help kids to improve their coding skills.
CODE.ORG is a free online platform for kids kindergarten to middle-grade students where your kids can get a Hands-on STEM programming experience.
Here is a small video from code.org related to ARTIFICAL INTELLIGENCE that teaches children the BASICS OF AI and how it works.
STEM Programming with learning cards
Recommended Grade: This stem activity is suitable for elementary kids 2-5th Grade.
 This product is a box of 30 challenges cards based on holiday or seasonally-themed. 
It is designed to attract the kids and includes various challenges which are simple and easy to crack.
 These products are durable and amazing to perform at school and Home as well.
Check-out Best Card Games for kids, fun and learn the same time!
Stem Programming with STEM Books
This STEM book encourages kids to be more creative and explore various ways to solve a problem. 
In this process, the parents are the facilitators who drive their children to solve a problem.
Every chapter has stories with some practice pages that will make children understand the science concepts and establish a foundation after finishing every STEM challenge.
 This book makes children understand the process of engineering design.
Recommended age
This book is for pre-primary school children to understand the STEAM topics.
The book contains 20 simple step-by-step projects which are easy to solve with colorful pictures to describe different STEM ideas.
The book is for preschoolers, but it can be used by the kindergarten students as well. 
In my opinion, the book is an all-rounder that resembles a preschooler's play area on the printed page.
 The activities are fun and simple to follow, and it's a great beginning to bring STEAM into your kid's life.
Recommended grade –This stem activity book is for kids 5 to 8 levels.
This book encourages children to expand their knowledge about outer space, physics, chemistry, and biology.
This science experiment book includes several experiments that are quite exciting for children to experiment at Home with household resources. 
Tom Robinson has made it more fascinating to kids with some curious questions that stimulate kids to investigate about it 
for example: what is a coin made up of, can we turn off the magnets, etc.
Recommended grade: 5-8th grade students
The 40 fun physics experiments written by the science teacher inspire children to find out about points like power, lightness, and trip with fun and entertaining exercises that children will love to attempt over and over.
The detailed steps with colorful pictures help the children be confident to complete the experiments without additional assistance.
conclusion- The book will access the Ideas for stem projects to do and also provides the knowledge to understand the fundamental concepts of physics 
Recommended Grade: This is a suitable stem activity set for preschoolers and above grades
The 45+piece set with scientific utensils creates a fun lab environment within the Home that enables your kid to explore scientific observations' diverse fields.
The activity guides included in the STEM learning kit ensures thought-level-processing and early growth in your child.
This STEM toy is a perfect solution to provide an enjoyable educational experience for your kid
Recommended age: Great STEM Activity for  kids of age 3 years and up 
This STEM microscope would be a great gift for the school-going kids to build a strong science foundation and make them curious about other aspects of life.
You can help your kid to develop his interest in the different aspects of the environment, combined with a fun experience of looking at things from up-close.
The magnifying glass enables children to observe objects of nature more closely.
Recommended age: kids of age 8 years and up
The 6 in 1 space fleet kits is one of the coolest DIY STEM projects for kids who are extremely curious about space.
It accesses kids to Built 6 different models like a space station, astronaut, space shuttle, space dog, space rover, space explorer that sparks the child's innovative skills 

The solar panel and capacitor help kids know the concept of solar energy and how it powers the toy without electricity.
STEM EDUCATION -The detailed instructions and clear labeling on parts help children to assemble the toy and gives a fantastic STEM experience focussed on Mechanics and Engineering.
Recommended age: This STEM activity is suitable for kids age 8 years and up.
This 6 in 1 solar power model DIY Stem Project empowers children innovative skills in building different models like Robot, Airboat, Plane, Windmill, Helicopter, and Wheeler.
This engineering toy teaches kids the importance of environment-friendly solar energy and how solar energy can replace electrical energy to power the project.
It also creates confidence in kids to protect the environment with solar energy.
Recommended age: This STEM activity set is appropriate for kids of age 3 years and up
If you are curious to introduce STEM programming to your kids from an early age, this engineering toy would be the best choice for you to start with !!
Kids can assemble this DIY kit from scratch, and it is admirable how well it can amplify a kid's creativity and STEM learning with easy-to-made toys that require no additional tools or accessories.
Includes-
 Walking Robot,
 Space shuttle,
 Moon rover, 
 Space station.
 Being optimized on a built-in solar battery, children can have fun on outdoors
you can also enjoy indoor, with 2AAA or 1.5V batteries.
Different types of STEM Programs for High-level kids
STEM programs have a wide range of fields in which the knowledge is not limited to just technology, science, mathematics, and engineering. The different programs available in STEM can be categorized as followed:
Statistics

Psychology

Physics

Mechanical Engineering

Mathematics

Electrical Engineering

Computer Science

Civil Engineering

Chemistry

Chemical Engineering

Biology

Biochemistry

Astronomy

Aerospace Engineering
Difference between STEM and STEAM
STEAM includes all the subjects STEM contains (science, technology, engineering, and math), and by adding an 'A' which stands for Arts in the equation, we transfer STEM into STEAM. 
This 'A' helps understand areas relating to arts better and with the help of unique and effective methods, enhancing the non-scientific aspect of kids' education.
The main difference between these two is that STEM focuses only on scientific concepts. While on the other hand, you would find that STEAM also explores the same ideas but uses different methods like problem-solving and inquiry-based methods applied for the creative processing of the mind.
With the help of STEM education and programming, kids get intellectually aware of the subjects.
 This makes them capable of a young age to comprehend the required knowledge to help in their day-to-day life.
 STEAM education is further introduced to them when they become mature enough to understand the non-scientific aspects of acquiring knowledge. 
When we make the children proficient in decision-making and develop their dexterity, we entrust a better future to achieve career-driven goals and personal accomplishment.